Elizabethtown College sent a mix of 93 used computers, screens and mice off to Ukraine to help students without necessary technology for their education.
All levels of education in Ukraine have been greatly disrupted by the war, said Andrew Kinsel, founder and owner of the Ukranian nonprofit organization, Ukraine Protection and Development Fund. His organization is facilitating the donation of Elizabethtown College's computers to Ukrainian students.
The students need donations to replace technology that is often stolen or damaged by Russian soldiers.
Kinsel said in an interview with LNP | LancasterOnline Thursday that a computer that might not be the top of the line in the U.S. is like "gold" for Ukranians – and, it's a good method of recycling, "Ecologically it's good… it's taking junk and giving it to somebody that really needs it."
Approximately 17 million people have been displaced, roughly 62,000 have died and more than 140,000 buildings have been destroyed in the war Russia waged against Ukraine since February 2022, according to Reuters news agency.

'I want to cry': 2 Lancaster County residents with ties to Ukraine react to Russia attack
In fact, the war has hindered education for 5.3 million children in Ukraine, according to UNICEF, and those who could flee could take very little with them – especially not a laptop or computer.
Students in Ukraine are attending school amid air raids and artillery fire, which can make study impossible, Kinsel said.
"I have been in schools in areas liberated from Russian occupation where the roof was damaged, walls shot or all the computers stolen," Kinsel wrote in a Facebook post. "Universities have suffered rocket attacks and Ukrainian language books burned."
Multiple efforts, one fund
Kinsel started the Ukraine Protection and Development Fund in May 2022, shortly after the current fighting broke out. Adopt a School, the program Elizabethtown College participated in, is one of the organization's efforts.

Two Lancaster County men partner with an Ephrata church to provide aid for Ukrainian refugees
Though he's not sure how many students the organization has helped specifically, Kinsel noted that one computer can help five to 10 students in Ukraine. In some parts of the country no more than five students can gather in one spot to prevent themselves from becoming targets of artillery fire.
Adopt a School is just one program of the Ukraine Protection and Development Fund. Through its other efforts – Generators for Life and Computers for the Front – the organization also donated more than 1,000 pieces of electronic equipment to soldiers on the front line, raised over $500,000 to supply body armor to military units and has donated over 100 electric generators to villages damaged by the Russians.
Kinsel has been living near Kyiv, Ukraine, since 1992. A Houston, Texas, native, Kinsel originally came to Ukraine while interning in the U.S. Embassy there during his time studying at American University in Washington, D.C.
He was planning to return to America that summer but instead, he began working with a startup media company in Ukraine and began what is now a 25-year career in business and consulting.
Education is key
Kinsel has been working with contacts he has made along the way who currently reside in the U.S. to facilitate donations.
One of those personal contacts was key in arranging the donation from Elizabethtown College.
He connected with David Sloan, who lives in Emmaus and is a former executive for Rodale Publishing in Europe and former chief editor of This Old House magazine at Time Inc. in New York. The two worked together in Kyiv during the early 2000s and have been friends ever since.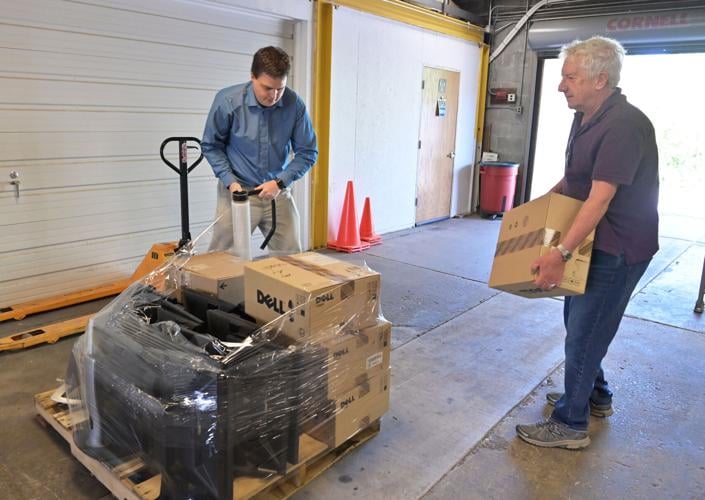 Sloan connected with Elizabethtown College through former LNP | LancasterOnline editor Ernie Schreiber and secured a rental truck to pick up the college's donation. Sloan also picked up 18 computers donated by DeSales University in Center Valley, Pennsylvania.
From there, Sloan boxed up the technology equipment Thursday and delivered it to Dnipro LLC, experts in shipping materials to Ukraine. And, while it's faster to ship by air, it's more expensive so Kinsel opts to load the boxes into containers and on pallets to be sent by sea.
Elizabethtown College's containers will be shipped June 5 and arrive somewhere in Poland to be brought into Lviv, in western Ukraine, around mid-July, according to Dennis DeSantis, founder of Ukraine Aid. Once the technology arrives in Ukraine, Kinsel will work with a computer engineer to ensure the computers and accompanying parts work.
Kinsel then gives computers to those he deems are most in need, such as students who are in an area like the Bereslav region, which is constantly hit by artillery. In such areas, groups of more than five become targets for the artillery so students must gather in smaller groups to take online classes.
In a war-torn country, these deliveries can be anything but safe. Upon a recent delivery to Bereslav, a Russian drone dropped two grenades near the vehicle making the delivery.
"Fortunately nobody was hurt, but the window was blown out," Kinsel told LNP | LancasterOnline.
For students like those in Bereslav who can't learn in person, the Ministry of Education developed a full online education program for all age levels. Others without computers must sometimes share one worksheet, copying it by hand for use.
Donations like those from Elizabethtown College can make all the difference in educating students in Ukraine.
"It is the parent's decision to stay or not, but by law the children have to be educated," Kinsel said.