Students Developed App Designed to Enhance Communication in Puerto Rico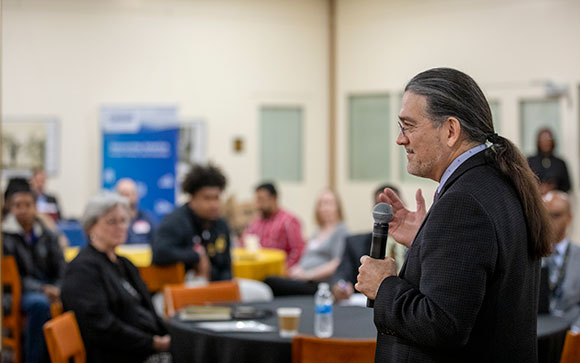 MEDIA CONTACT: Jonathan Saxon, [email protected], 301-860-3607
(BOWIE, Md.) – A group of Bowie State computer technology students recently participated in a technology conference where they presented their work on a project aimed at helping people stay connected with each other in Puerto Rico.
Jaylen Moody, Alivia Ross, Mayla Dobson and Oluwafunmilula Ogunseye took part in the virtual Women in Data Science regional conference, hosted by General Motors, on March 1. The students, all members of BSU's Data Tech + X group, were part of the Lightning Tech Talks panel discussion. They shared details about their research and development for their app, C&C, which stands for Community & Connection. The app was designed to deliver enhanced communication capabilities to the denizens of Puerto Rico.
"After speaking with user-advocates who reside in Puerto Rico, they told us that community and connection was what they felt was lacking to help the high schoolers there," said Moody, a senior with a concentration in networking infrastructure. "Puerto Rico deals with a lot of network infrastructure struggles due to hurricanes and things of that nature. It's hard for them to communicate with family on a consistent basis."
"We discussed how we used data to build the app," said sophomore Alivia Ross. "We used federal data sources to come up with our research on the people of Puerto Rico and their values. We got to share our views on why data can be useful in technology."
Dr. Velma Latson, an assistant professor in the Department of Technology and Security, was proud of how her students presented and conducted themselves during their panel appearance and believed they made a positive impression for the work that is happening in Bowie State's technology and security department.
"It was very exciting, because the audience for this is from General Motors," said Dr. Latson. "You're talking a major corporation that was involved, and we were able to put Bowie State on the map among other institutions. It was a huge outreach for Bowie State."
###
About Bowie State University
Bowie State University (BSU) is an important higher education access portal for qualified persons from diverse academic and socioeconomic backgrounds, seeking a high-quality and affordable public comprehensive university. The university places special emphasis on the science, technology, cybersecurity, teacher education, business and nursing disciplines within the context of a liberal arts education. For more information about BSU, visit bowiestate.edu.