Quantum computer technology has made great strides in recent years and is becoming increasingly affordable to develop and build. That's good news because the demand for more powerful computing is ballooning with the expansion of cloud computing, the proliferation of digital devices, and the dawn of the AI era.
Quantum computing could emerge as a key technology and investment trend in the decades ahead. But because it's still in its infancy, the best way to invest in the industry could be via a quantum computing ETF.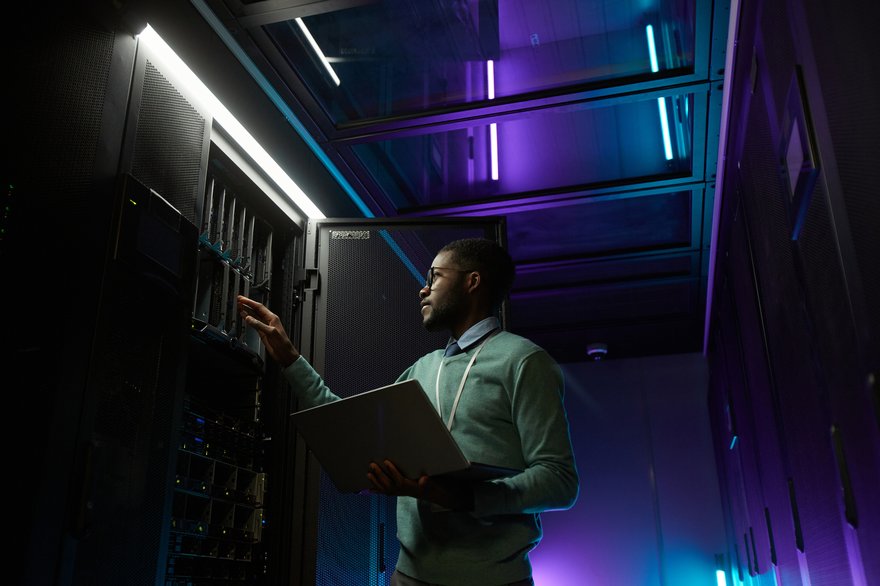 Image source: Getty Images.
What is quantum computing?
What is quantum computing?
Quantum computers make use of superposition, which is the phenomenon that occurs at the subatomic scale where particles have no clearly defined state.
Harnessing the power of superposition dramatically accelerates computing speed and can help solve complex problems in the real world, such as coordinating logistics or simulating the structure of pharmaceutical products.
The advent of cloud computing has helped expand access to quantum computers, delivering computations to researchers via an internet connection.
Leading companies in quantum computing
Leading companies in quantum computing
Since quantum computing is still being researched and developed, there are few publicly traded company stocks solely dedicated to the technology. However, there are some well-known businesses funneling lots of research dollars into quantum computing. A few newly public pure-play stocks have hit the market during the last couple of years, too.
The best quantum computing stocks include: 
Microsoft (MSFT

0.92%

): The software giant has various research labs devoted to quantum computing and offers quantum computing services via the cloud on Azure.  
Nvidia (NVDA

-0.51%

): The top semiconductor designer for AI has also been working on a quantum computing software stack, as well as a hybrid quantum computing unit in partnership with start-up Quantum Machines.
Honeywell (HON

-1.17%

): Honeywell developed its own quantum computer but merged its Honeywell Quantum Solutions unit with start-up Cambridge Quantum Computing to create a new business called Quantinuum focused on the nascent industry.
IBM (IBM

-1.55%

): The legacy tech firm offers quantum computing and accompanying software and has a community of more than 210 partner companies and research institutions.
IonQ (IONQ

-5.88%

): Start-up IonQ merged with special purpose acquisition company (SPAC) dMY Technology Group III in 2021 and is building a network of quantum computers accessible via cloud computing. 
Defiance Quantum ETF
Defiance Quantum ETF
Besides investing in individual companies, there is one ETF, or exchange-traded fund, dedicated to the quantum computing industry: Defiance Quantum ETF (QTUM -1.57%). Defiance ETFs — the company that sponsors this and other themed ETFs — launched in 2018, with its Quantum ETF debuting in September 2018.  
The Defiance Quantum ETF is made up of 71 individual stocks. The fund holdings are primarily semiconductor and software companies that are working on quantum computing in some form or another. The fund is small, with total net assets under management of just $150 million. It has an expense ratio of 0.40%, which works out to $40 in annual fees for every $1,000 invested. The top 10 holdings in the fund are:  
Benefits of Defiance Quantum ETF
Benefits of Defiance Quantum ETF
It offers well-diversified exposure to the quantum computing industry before it gains widespread commercialization.
The ETF invests in established semiconductor and software technology companies not solely dependent on the development of quantum computing, which could provide some stability to the fund's performance over time.
In its short history, the Defiance Quantum ETF has doubled in value, although this is attributable to growth in the technology sector overall rather than quantum computing specifically.
Opportunities for quantum computing investing
Opportunities for quantum computing investing
Although there is only one quantum computing ETF available at the moment, there are other opportunities available for investors wanting to bet on the technology. IonQ was the first publicly traded pure-play stock in quantum technology. Bear in mind this company is a startup, though. It generates little in the way of revenue and currently loses money.
Likewise, the merger between Honeywell Quantum Solutions and Cambridge Quantum Computing — now known as Quantinuum — offers another opportunity for investors to get in on the movement early. Honeywell is the majority owner of Quantinuum.
Related investing topics
Why should you invest in Defiance Quantum ETF?
Why should you invest in Defiance Quantum ETF?
For investors looking for an affordable way to passively benefit from the development of quantum computing, the Defiance Quantum ETF is worth considering. It's well-diversified across dozens of technology stocks. However, it won't implode if quantum computing never takes off since most of these companies rely on established tech trends such as AI and machine learning.
If you want in on quantum computing at an early stage, this ETF is a good place to start.
Nicholas Rossolillo has positions in Advanced Micro Devices, Cadence Design Systems, Marvell Technology, and Nvidia. The Motley Fool has positions in and recommends Advanced Micro Devices, Cadence Design Systems, Microsoft, Nvidia, and Teradata. The Motley Fool recommends International Business Machines and Marvell Technology. The Motley Fool has a disclosure policy.